TRABANT KIT IGNITION
Ignition for Trabant based on ECU MASTER LITE Plug & Play
Mechanical resistance
Records of engine hours and other data (revolutions, advance, voltage, etc.)
Reducing power consumption - precise excitation of coils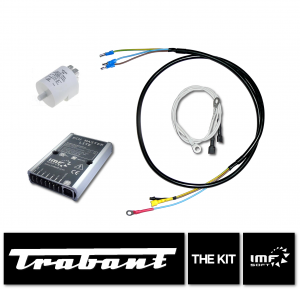 Technical Specification
- Original EBZA sensor can be used for scanning (EBZA sensor is not part of the product), or you can buy sensor F04 from our Accessories offer, it comes together with shading disc and with steinless steel underlying plate - F04.
- Suitale for all types of Trabant car
- Advance curve is loaded in the ECU, no need to set this up, just Plug & Play
- If you like, the ignition timing can be set by the curve
- Easy fitting
The CD with the application is no longer included with the set.
You can either download the necessary files here on the page below, or order a Flash disk in the Recommended accessories here.
Application Software
| Name | Date | File |
| --- | --- | --- |
| *.ig file examples – [zip, 2 MB] | 22.11.2019 | Download |
Available Variants
| Name | Cena s DPH | |
| --- | --- | --- |
| TRABANT KIT IGNITION – Type Trabant Kit zapalování | 243.21 € | |
Recommended Accessories
USB flash disk - uploaded with SW and documentation