Wideband LAMBDA controller MODULE- LCP80
Product LAMBDA controller - LCP80 is separate module for control and signal processing of wideband lambda probe type LSU 4.9 a LSU 4.2. Back part is designed to be attached to DIN rail.
We supply along with matting terminal blocks and USB cable for PC connection.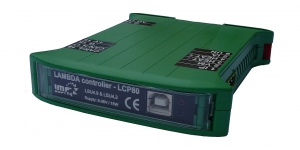 Technical Specification
Lambda Controller can be used for efficient combustion process in:
-  Combustion engines of automobiles
-  Cogeneration units = CHP
-  Boilers for gas combustion or biomass
-  Industrial furnaces and kins
-  Converter between older narrowband Bosch LSM-11 to wideband Bosch LSU 4.9
-  Output CANbus J1939 or voltage 0-5V, 0-10V, 0-20mA, 4-20mA (± 0.1%)
LAMBDA controller is based on circuit BOSCH CJ125 which serves basic function of oxygen sensor along with supporting microprocessor for filtering and control. Microprocessor also provides forwarding data to the diagnostic interface USB or CANbus in protocol SAE J1939. Lambda probe heater is controlled by PID regulator and the resistance of measuring cell (Nerns Cell) with auto-off option according to engine speed received from CANbus.
LAMBDA controller processes and visualizes data about Lambda mixture – λ, Oxygen – O2, Ratio – A/F, Probe temperature – T [°C], Supply voltage – U[V] and Engine speed – RPM.
LAMBDA controller can be directly included in the ECU MASTER unit as extened module. This solution is possible only for units with four outputs, such as MASTER 4TCI. For units with ten outputs is possible connection by CANbus – J1939 interface.
Main Features
Supply voltage range 7 to 36V (12V/24V)
Consumption 10W (Lambda heater)
Operation temperature −40 to 85°C
Support for Lambda sensor type: LSU 4.9 and LSU 4.2
Used BOSCH CJ125 circuit and microprocessor support
Visualization:

Lambda – λ .......................... 0.7 to 12.5 (± 0.1%)
Oxygen – O2 ........................ -7.5 to 20% (± 0.1%)
Ratio – A/F ............................ Gasoline, Diesel, Methanol, Ethanol
E85, LPG, CNG, Hydrogen
Temperature – T [°C] ......... -40 to 1050°C (± 3°C)
Supply voltage – U [V] ......... 7 to 50V (± 2%)
Analog out – AO  ................. 0-5V, 0-10V, 0-20mA, 4-20mA (± 0.1%)
Engine hours ....................... [h:m:s]

CANbus support at protocol SAE J1939 (250kbps)
Supported connection or integration with ECU MASTER
Galvanically isolated USB – USB protection against earth fault and EMC disturbances
PC application – configuration and visualization measured values
Measuring the supply voltage
Installation standard – DIN rail 35mm
Protection class – IP20
Dimensions 118×101×23mm
Signal Description
MARKING
MEANING
RANGE, ACTIVE LEVEL
+V
Supply
9 to 36V (12V/24V)
G
Ground supply
0V
AO
Analog Output
0-5V, 0-10V, 0-20mA, 4-20mA (± 0.1%)
CAN H
CAN L
CAN bus
SAE J1939 / 250kbps
LSU 4.9 (LSU 4.2)
IP (red)
Lambda LSU - pin 1 (6*)
IP/APE - pump current shunt input
VM (yellow)
Lambda LSU - pin 2 (5*)
VM/IPN - virtual ground output
HEAT− (white)
LSU - pin 3 (4*)
Uh−/H− – heating +
HEAT+ (gray)
Lambda LSU - pin 4 (3*)
Uh+/H - heating +
IA (green)
Lambda LSU - pin 5 (2*)
IA/RT - pump current control output
UN (black)
Lambda LSU - pin 6 (1*)
UN/RE - inverting input of pump
* Index of pins depends on Lambda probe type; index in brackets belongs to type LSU 4.2
Wiring schema
Application LAMBDA control – visualization software
Visualization is done from application LAMBDA control run on your PC. The application works under Windows 95 and higher. Installation requires 4MB of free space at your hard disc.
To connect lambda to PC is used USB interface. Driver for USB is included on the installation CD.
Visualized information
Revolutions [RPM]
Lambda – λ
Oxygen – O2
Ratio – A/F
Temperature – T [°C]
Supply voltage – U [V]
Analog output – AO [V/mA]
Engine hours [h:m:s]
AFR – Air Fuel Ratio
Documentation
| Name | Date | File |
| --- | --- | --- |
| LAMBDA_AnalogOUT r8_4 [pdf, 180kB] | 15.02.2021 | Download |
| LAMBDA_AnalogOUT r8_4 [xls, 183kB] | 15.02.2021 | Download |
| Manual_EN_LAMBDA controller - LCP80 [pdf, 900kB] | 15.02.2021 | Download |
| J1939_CANopen_Protocol [pdf, 50kB] | 17.04.2019 | Download |
| Certificate – Radio disturbance characteristics; Immunity characteristics | 10.08.2015 | Download |
Available Variants
| Name | Cena s DPH | |
| --- | --- | --- |
| Wideband LAMBDA controller MODULE- LCP80 – Type basic | 215.38 € | |