Hall sensor H03
Threaded Hall sensor H03 - is intended for monitoring crank-shaft or cam-shaft position of combustion engine.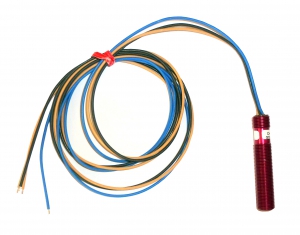 Technical Specification
H03 is threaded Hall sensor with integrated magnet.
Rotary disc or teeth must be from ferromagnetic material.
This sensor is suitable for use with ECU MASTER.
The advantage is easy tuning of sensing gap with the nuts.
For wiring, we recommend to use connector K03.
Ability to capture speed near zero.
"10 bit dynamic threshold detection offers automatically adjusting magnetic range
Compatible with unregulated power supply
"Reverse battery protected to -24VDC
Discrete wire version: 20 AWG, tin plated, polyolefi
Hard coat anodized aluminum housing
| | |
| --- | --- |
| Operating Voltage Range | 5,0-24 VDC |
| Supply Current | 6 mA max. |
| Output | sink (NPN) |
| Output Saturation Voltage | 400 mV max. |
| Output Current | 20 mA max. |
| Operating Temp Range | -40 to 125 °C |
| Storage Temp Range | -40 to 125 °C |
| Thread | M12-1 |
| Barrel Length | 65 mm |
| Leads | 20AWG x 1m BBB |
Notes: The resistor shown is not needed as it is part of the MASTER ignition unit in the HALL configuration


Elektrical schema
Available Variants
| Name | Cena s DPH | |
| --- | --- | --- |
| Hall sensor H03 – Type H03 Hall sensor | 42.35 € | |