Infrared sensor F03
Infrared sensor F03 - is determined to scan crank-shaft or cam-shaft position of combustion engine.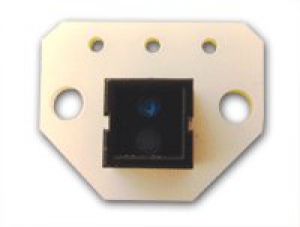 Technical Specification
Physical principle of sensor is infrared bar whose beam is interrupted by rotating metal or plastic opaque disc.
The sensor is suitable for use with ECU MASTERs.
The advantage of compact size enables placement in distributor
Beware: This sensor is sensitive to day light!
| | |
| --- | --- |
| Parameter | Range |
| Supply voltage | 5V |
| Amperage take-off | 20mA |
| Working revolutions | 0 to 25.000 rev/min |
| Working temperature | -25 to 85°C |
| Type of switching | Open commutator (NPN) |
| Maximum switched amperage | 20mA |
| Maximum switched tension | 30V |
| Tension drop in switched status | 0,4V while 1mA |
| Outer proportions | 50x15 mm |
Available Variants
| Name | Cena s DPH | |
| --- | --- | --- |
| Infrared sensor F03 – Type Základní varianta | 11.00 € | |