BMW R50/2 - R69S IGNITION KIT
Contactless ECU kit based on MASTER LITE for BMW R50/2, BMW R60/2 up to R69S, modell year 1955 to 1969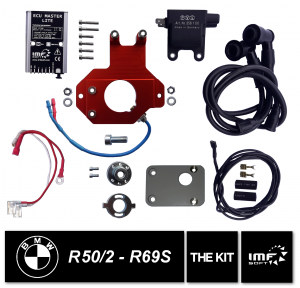 Technical Specification
Contactless ECU
Control unit MASTER LITE in the kit for the old-timers BMW R50/2, BMW R60/2 up to R69S, made over years 1950-1969.
✔ Plug and Play – Ready for BMW engine work
✔ Software maps and curves are all set in the unit (no need to adjust them)
✔ All the gear is hidden to the eye in the engine
✔ Advance map 2D or 3D
✔ Easy engine start and clear power
✔ One or Two outputs to ignition coil
✔ Supply voltage 3.5V to 21V
✔ Integrated Oscilloscope 1Msps for better diagnostic
✔ Datalogger to internal FLASH 8MB
✔ User configuration and visualisation by PC
✔ Built from robust components - Stainless steel
✔ All parts fit on the original holes
Applicable for following models:
Model     Model Year
R50/2      1955 – 1969
R60/2      1956 – 1969
R50S        1960 – 1962
R69          1955 – 1960
R69S        1960 – 1969
Assembly set
1x   ECU MASTER LITE 80x55x16 mm (Anodized Aluminum)
1x   PVL INDUCTIVE COIL 76x60x40 mm (PVL 356 100)
2x   PVL IGNITION CABLE 600 mm (Plastic + Copper)
1x   Ignition base 116x112x12mm (Red Anodized Aluminum)
1x   Industrial Pick up Sensor M8x23 (Stainless Steel)
2x   Two parts of Trigger-Wheel 30 mm (Stainless Steel)
1x   Ignition Holder (Insulating Polypropylene)
15x Screws, Nuts and Washers (Stainless Steel)
3x   Connection wires (Red, White, Black)
 
If you buy a flash drive at Recommended accessories at the very bottom (

here)

, we will upload all the documentation and software listed below to it.
Otherwise, these files are also freely downloadable below.
Available types
KIT BMW R50/2 - R69S - "+" pole on the frame
KIT BMW R50/2 - R69S - "-" pole on the frame
You will know that if you look which battery pole is connected to the frame (chassis, ground), plus or minus?
Reference video
Application Software
| Name | Date | File |
| --- | --- | --- |
| *.ig file examples – [zip, 2 MB] | 22.11.2019 | Download |
Available Variants
| Name | Cena s DPH | |
| --- | --- | --- |
| BMW R50/2 - R69S IGNITION KIT – Type KIT BMW R50/2 ... R69S, "+" plus pole on the frame | 523.93 € | |
| BMW R50/2 - R69S IGNITION KIT – Type KIT BMW R50/2 ... R69S, "-" minus pole on the frame | 523.93 € | |
Recommended Accessories
Engine control unit for 1, 2 and 4 cylinder engines. 2× TCI Outputs

Sensing engine rotation from zero speed, only two wires

USB flash disk - option with uploaded SW with documentation or clean