BMW R50/2 - R69S IGNITION KIT
Contactless ECU kit based on MASTER LITE for BMW R50/2 - R69S, modell year 1955 to 1969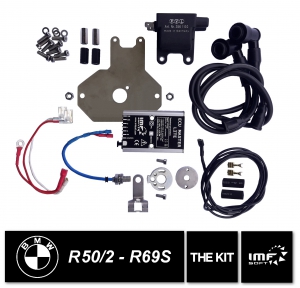 Technical Specification
Again available in October!
Contactless ECU
Control unit MASTER LITE in the kit for the old-timers BMW R50/2 - R69S, made over years 1950-1969.
✔ Plug and Play – Ready for BMW engine work
✔ Software maps and curves are all set in the unit (no need to adjust them)
✔ All the gear is hidden to the eye in the engine
✔ Advance map 2D or 3D
✔ Easy engine start and clear power
✔ One or Two outputs to ignition coil
✔ Supply voltage 3.5V to 21V
✔ Integrated Oscilloscope 1Msps for better diagnostic
✔ Datalogger to internal FLASH 8MB
✔ User configuration and visualisation by PC
✔ Built from robust components - Stainless steel
✔ All parts fit on the original holes
Applicable for following models:
Model     Model Year
R50/2      1955 – 1969
R60/2      1956 – 1969
R50S        1960 – 1962
R69          1955 – 1960
R69S        1960 – 1969
Assembly set
1x   ECU MASTER LITE 80x55x16 mm (Aluminium)
1x   PVL INDUCTIVE COIL 76x60x40 mm (PVL 356 100)
2x   PVL IGNITION CABLE 600 mm (Plastic + Copper)
1x   Ignition base 115x112x3mm (Stainless steel)
1x   Industrial Pick up Sensor M8x23 (Stainless steel)
1x   Two parts Trigger-Wheel 30 mm (Stainless steel)
1x   Pick up Sensor Holder (Stainless steel)
16x Screws, Nuts and Washers (Stainless steel)
3x   Connection wires (Red, White, Black)
1x   CD with PC application
Available types
KIT BMW R50/2 - R69S - "+" pole on the frame
KIT BMW R50/2 - R69S - "-" pole on the frame
You will know that if you look which battery pole is connected to the frame (chassis, ground), plus or minus?
Reference video
Application Software
| Name | Date | File |
| --- | --- | --- |
| *.ig file examples – [zip, 2 MB] | 28.02.2019 | Download |