Extension cable for probe Bosch LSU 4.9
We produce them in these lengths (marking):
1.5m   (LEC 1.5m)
3.0m   (LEC 3m)
5.0m   (LEC 5m)
If you wish to have an alternative length, please contact us.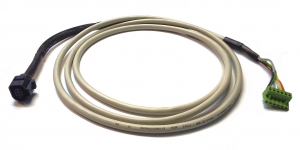 Technical Specification
This extension already includes the mating connector K06S to the sensor Bosch LSU 4.9.
Cable bundle contains 6 wires. Wires are twisted.
Connector plug to Lambda probe Bosch LSU 4.9 on one end, loose wires with no connector plug (on demand) or with connector of Lambda controller (default) on the other end.
We supply the controller connector with a screw clamp. On request, we can supply connectors with a spring clamp (orange elements).
Available Variants
| Name | Cena s DPH | |
| --- | --- | --- |
| Extension cable for probe Bosch LSU 4.9 – Type LEC 1.5m | 21.78 € | |
| Extension cable for probe Bosch LSU 4.9 – Type LEC 3m | 30.25 € | |
| Extension cable for probe Bosch LSU 4.9 – Type LEC 5m | 35.09 € | |
Recommended Accessories
Wideband lambda sensor LSU 4.9

Wideband lambda probe control module with stepper motor control

Wideband lambda probe control module - O2 oxygen measurement