Battery variable holder
Easy and quick mounting of batteries and possible dismantling. Fixing the batteries of different types and sizes. Mounting: DIN or panel with screws. Our own product.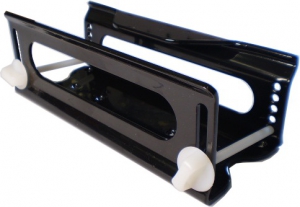 Technical Specification
It is designed for quick and easy fix of battery (or batteries). The holder is made ​​up of two L parts. They connect to each other by two bolts with a large round head for easy assembly and disassembly. Design allows attachment of different battery sizes.


Holder Dimensions:   196x90x70 mm   /   7.7x3.5x2.8 in

Weight:   0.6 kg  /  1.32 lb

Material:   2 mm (0.08 in) steel with black powder coating

Battery dimensions (L x W x H):      MAX     mm: 180 x 94 x 70      in: 7.1 x 3.7 x 2.8        
                                                              MIN      mm: 120 x 60 x 30      in: 4.7 x 2.4 x 1.2


DIN rail mounts are available on request, with surcharge.

Examples of use:
producer

voltage [V]

capacity [Ah]

length [mm]

height [mm]

width [mm]

Haze

12

2,2

178

61

35

12

3,3

134

61

67

6

3,2

134

60

34

Long

12

2,3

178

60

34

12

8

151

94

65

6

12

151

94

50

Sunny Way

12

2,3

70

101

48

12

3,2

134

61

67

12

7

151

94

65

12

8

151

94

65

Vision

12

2,3

178

60

34

12

3,2

134

61

67

12

7

151

94

65

6

12

151

94

50

6

3,2

134

60

34

Toyo

12

7,5

151

94

65

12

2

178

60

34

6

12

151

94

50

CTM

12

3,5

134

61

67

12

7,2

151

94

65

6

3,5

134

60

34

and other…

 
 
 
 
 
Available Variants
| Name | Cena s DPH | |
| --- | --- | --- |
| Battery variable holder – Type Základní varianta | 23.00 € | |